Unless you are a guitarist yourself, choosing the right guitar for your child can be very confusing. If you are not careful, you can waste a lot of money buying the wrong guitar. I have written this Guitar Buying Guide For Kids to help you avoid the pitfalls and to ensure that you at least know what to consider before making a purchase.
I am not going to recommend any specific guitars within this guide, but you can find other posts on my website in which I review current models of guitars that are suitable for kids.
Before you narrow down your search for a specific guitar, you need to understand what you should be looking for in the first place.
So, here is my list of the 7 most important things for you to consider before buying a guitar for your child.
1. How Old is Your Budding Guitarist?
The first thing to consider when embarking upon the quest to find the best starting guitar for your child is their age and general body size.
When your child is sitting down with their guitar properly positioned across their thigh, they need to be able to comfortably reach their strumming/picking hand over the top of the head of the guitar in order to reach the strings without straining or having to stretch too much. Their other hand also needs to be able to reach all of the frets along the neck of the guitar.
If you can get to a local music store and obtain the advice of a professional who can help you to find the correct sized guitar for your child, that's undoubtedly the best option. If, like many people, this is not an option and you need to find a guitar online for your child, here are some general rules of thumb to help you choose the correct sized instrument.
In general, guitars come in 3 different sizes.
A 1/2 sized guitar is going to be most suitable for kids aged between about 5 and 8 years.
A 3/4 sized guitar is going to be most suitable for kids aged between about 8 and 12 years.
From the age of about 12 years onwards, your child is probably better off starting with a full sized guitar.
Please note that this is a rough guide and, if your child is unusually small or large for their age, you may need to adjust upwards or downwards as appropriate.
Please resist the temptation to buy a guitar that is too large for your child upon the basis that they will "grow into it" eventually. If your child can't play the guitar comfortably, they won't make very good progress learning to play it, they won't want to practice, and they may just quit altogether.
So, make sure to buy the correct size and, so long as you choose a reputable brand, the guitar will retain some re-sale value to ease the financial burden of trading up to the next size when they outgrow it.
2. How Big Are Their Hands?
In addition to your child's overall body size and age, you should also take into account their hand size. Again, if they have average sized hands for their age, just stick to the age guidance above.
If they have extra large hands for their age, don't worry as this is rarely going to be a problem. In fact, it will likely be an asset and help their progress.
If, however, they have unusually small hands, you will need to be extra careful when choosing the size of guitar and the style of guitar. An 8-year old child with very small hands might be better off starting on a 1/2 size guitar rather than a 3/4 size guitar as the neck on the 3/4 size is likely to be wider.
As for the style of guitar, a classical guitar with nylon strings will almost certainly have a wider neck than an electric guitar, and will be harder for someone with small hands to play comfortably.
3. Formal Lessons or Home Study?
Is your child going to take formal lessons from a qualified guitar teacher or are they going to learn at home, either with some form of study app/book, or with your help?
If they are going down the guitar teacher route, it is a good idea to ask that teacher for advice about which guitar to buy before making a purchase. Some teachers will only teach students to play certain styles of guitar and they may even be able to recommend a few models of guitar that they have found to be reliable and easy for kids to learn on.
If your child is going to learn at home through self-study or with parental guidance, you will need to do your own research and you will have an open choice when it comes to which style of guitar to buy for your child.
4. Which Style of Guitar to Buy?
There are a number of different styles of guitar to choose from, but there are only 3 styles of traditional 6-string guitar that are likely to be suitable for a child beginning to learn to play.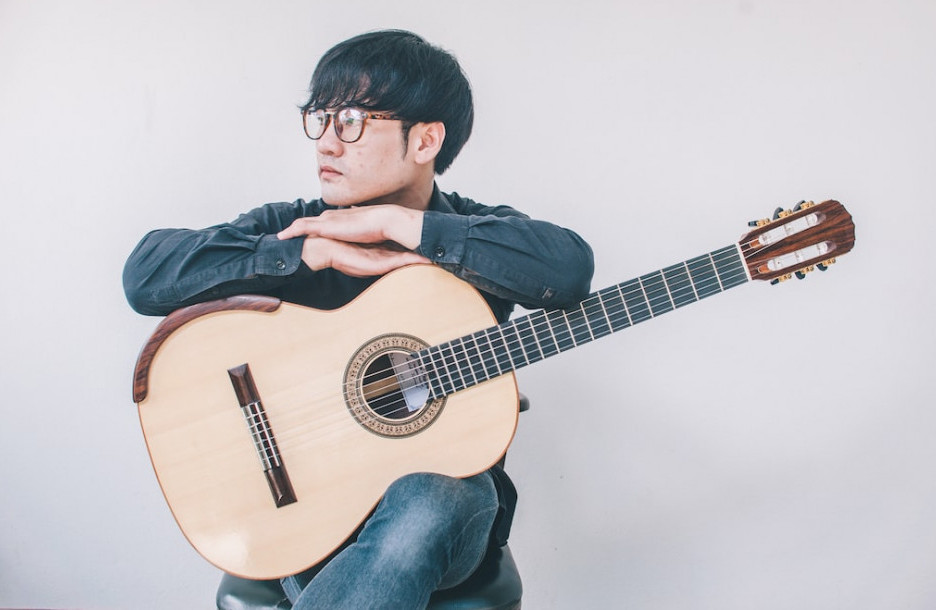 A classical guitar has nylon strings and is a very common choice for children buying their first guitar. They are relatively inexpensive and the nylon strings are less likely to hurt their fingers than meal strings during the early stages of learning.
These types of guitar can be seen being skilfully played by Spanish flamenco guitarists and the like.
Sore fingers can lead to a child not wanting to practice!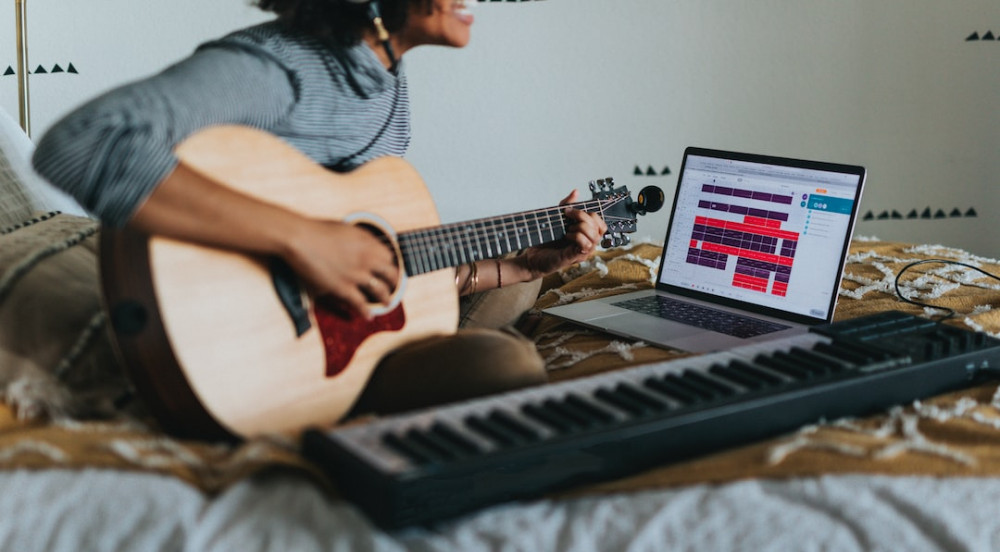 An acoustic guitar has steel strings, but the body shape and size will be quite similar to an equivalent classical guitar. Notwithstanding that they are harder on the fingers, this will be the best option if your child's main reason for taking up the guitar is that they want to play like Ed Sheeran. They sound better to my ear and, as a child, I enjoyed playing acoustic guitars much more than classical guitars once my fingers had got hardened a little.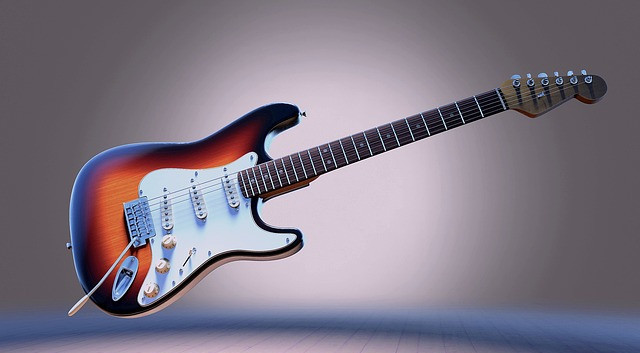 Finally, although many teachers refuse to teach kids to play on an electric guitar, there is absolutely no reason why your child shouldn't learn to play the guitar on an electric guitar. If that is what they want to do because they love the sound that they make, then i say just let them. If they enjoy the guitar, they will practice, they will stick with it, and they will improve. One extra benefit of an electric guitar for kids is that the necks are narrower, which makes it easier for small hands to correctly form chords on the frets.
Music is supposed to be fun and so I think you should just let your child enjoy playing whichever style of guitar suits them and is consistent with their own musical tastes.
5. 6-String Guitar v 3-String Guitar?
So far, I have only mentioned traditional 6-stringed guitars and those have been the only sensible choice for any child that wanted to learn to play the guitar until very recently.
Some companies, including one called "Loog Guitars", have sought to find alternative ways to help kids (and their small hands) get more enjoyment and early success out of learning to play the guitar.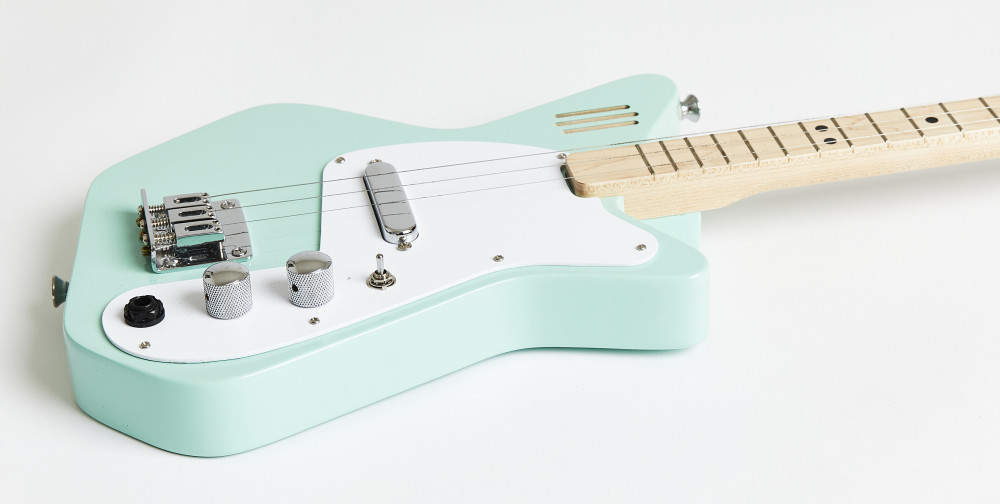 Rather than manufacturing scaled down versions of 6-string guitars, Loog Guitars have developed a 3-string guitar that is specifically designed for kids and their small hands. Because these instruments only have 3 strings, the necks are much slimmer than a 1/2 or 3/4 sized 6-string guitar. This makes them much easier for small kids to play.
Some people may be sceptical about the idea of a 3-string guitar, but many kids rock schools actually teach kids to play 6-string guitars by only using 3 or 4 string chords. They recognise that kids' hands are often too small to play chords that require both E strings to be fingered and so they teach them cut-down versions of the chords. These cut-down chords often use just the highest sounding 3 strings on the guitar.
The Loog 3-string guitars, therefore, are simply taking this concept and removing the other 3 strings that are rarely used. The result is a guitar that small child hands will find more comfortable to hold and play, without necessarily compromising on the sounds that are produced.
Now, I am certainly not saying that these 3-string guitars are better for kids to learn on than traditional 6-string guitars, but they are a nice alternative option for you to consider.
6. What is Your Budget?
My only piece of advice on the subject of budget is to encourage you not to buy a cheap unknown brand off Ebay. You won't be able to tune it, it will make a terrible sound, and your child will just get frustrated and quit.
You don't need to spend hundreds on your child's first instrument, but just make sure that you buy one from a well-known reputable company like Yamaha or Tanglewood, to name just two.
For somewhere between $100 and $200, you will be able to buy a really nice quality instrument that stays in tune, makes a pleasing sound (allowing for the ability of the player!), and lasts a long time if treated well.
If you buy a nice quality instrument, it will hold its value if you need to sell it or part-exchange it later on.
7. Do You Need Guitar Accessories?
One of the great things about learning to play the guitar is that you only really need the guitar itself and your hands. No other piece of equipment is mandatory.
There are, however, some guitar accessories that you may consider buying for your child as well as the guitar itself. These accessories include:
Picks – These are very cheap and you should definitely get some.
Strap – Not necessary unless your child is really desperate to play while standing up and wants to strut around like a rockstar.
Case – Not necessary if the guitar isn't going to leave the home, but essential if it needs to be carried to lessons.
Stand – Not necessary, but useful as an alternative to using a case at home or having the. guitar left strewn across your child's bedroom floor. A guitar kept on a stand is more likely to be picked up and played than one in a case or in a cupboard.
Amplifier – Only necessary if you buy an electric guitar for your child that does not have an amplifier built-in like the Loog Guitars.
Final Words
I hope that these 7 basic tips will help you find the best guitar for your budding child guitarist and that they enjoy many years of learning and playing the guitar.
If you have any questions about buying a guitar for your child, please leave a comment and I will try to help out.